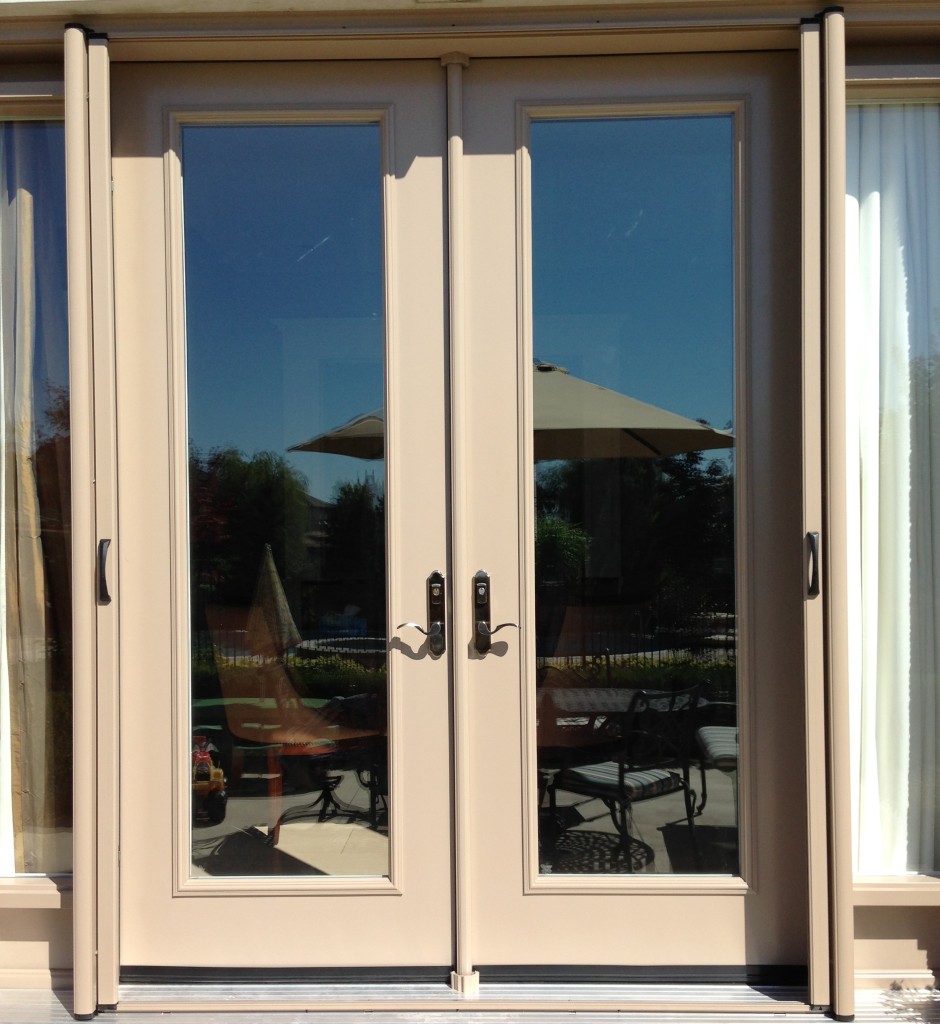 Get more use out of your French doors
You can now add fresh air into your home without the worry of bugs with Retractable Screens for French Doors from Invisible Screens Canada. Retractable screens for French Doors are installed on each side of the french doors and meet at the center of the of the door.  The screens are held in place by 4 strong magnets, 2 at the top and 2 at the bottom of the screen door. French door locks are also installed at the top and bottom on 1 side of the retractable screen to allow the screen to lock in the open position for an easier operation.
 Retractable Screen Colours
White

Almond

Sandalwood

Brown

Black

Grey

Custom Colours

Over 30 available custom colours.
 Retractable Screen Mesh Options
The most important (and often overlooked) component of a screen door is the screen itself! Invisible Screens Canada Retractable Screen doors come in a variety of mesh options.
Standard-StiffenedDesigned for all-around use, the Standard-Stiffened screen material is made exclusively for INVISA screen and is designed to last.

No See Um 20/20

No-see-um ScreenDo you want to really keep the bugs out? The No-see-um Screen has tiny perforations that keep even the smallest airborne pests out. Mosquito's, gnats even fleas stay outside where they belong.

Solar Mesh 20/30

Solar MeshThe Solar Mesh reduces heat and glare by up to 65% and keep insects out. Solar mesh is perfect for keeping the
interior spaces cooler when the screens are in use, and protecting your carpets, drapes, and furniture from fading.

Pet Mesh

Pet ScreenPet Screen is a heavy-duty, vinyl-coated polyester insect screening that is ideal for use in high traffic areas.Pet resistant and tear and puncture resistant, Pet Screen is stronger than regular insect screening
 Retractable Screen Sizes
All our retractable screens are custom made and are fabricated at our factory in Concord, Ontario.
| | |
| --- | --- |
| Single Door | Screen Heights are 74″ -> 109″Screen Widths are 28″-> 54″ |
| Double Door | Screen Heights are 74″ -> 109″Screen Widths are 60″ -> 108″ |
 Available Options
| | |
| --- | --- |
| Speed Reducer | Flush Mount Handle |
Visit our Picture Gallery to view Retractable Screens on French Doors.